27 Oct

Action Action!

As Luci always says, "Plenty of action" is going on at Fluid MotorUnion, in all corners of the service bays. Let's take a look at the madness, shall we?

Let's start with the farthest corner of the Fluidverse, fabrication. Now that the Explorer and Black Series have been done for a while, we've been crackin' at the newest build, which we'll slowly reveal as the build presses forth. For now, though, the dyno has a serious list of cars that will be gracing the dyno room with the sweet smell of noxious exhaust gases. First up is, as we mentioned yesterday, Scott's twin-turbo Explorer. Nobody's made a twin-turbo kit for this generation of the Explorer, so it makes sense that tuning solutions are few and far between. No worries, though; OJ's currently taking up dual residence in both the office and the dyno room, as he builds the tables for this tune himself. Video should be coming up for this car very soon…
Over in the office, we unboxed a set of Forgeline racing wheels for an E60 M5's drag radial tires. Naturally, we shot the wheels a bit because…well…look at them! Titanium hardware and all, these wheels are certainly ready to take the abuse of the drag strip. Let's hope these will help the E60 M5's e.t.'s as it roars down the track, its V10 screaming like Barry White with a mouthful of wasps. Yes, we know that Jeremy Clarkson already used that line when describing the CLS55 AMG, but still, an analogy that good deserves to be used more often.
Just outside the office, in our service bays, Matt's C63 has returned for a full-out R&R on all his go-fast bits, back to the OEM go-somewhere bits. He's made the decision to upgrade from the C63 to something a bit fresher. R35 GT-R, E92 M3, or C63 Coupe? Only time will tell!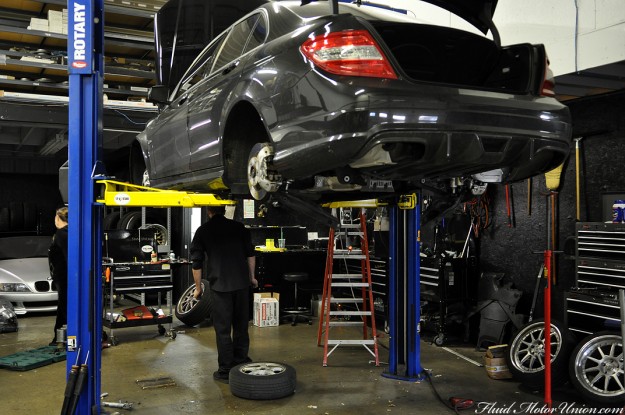 And finally, we've had a bit of transporter trouble with the Black Series. The first transporter had an equipment malfunction, the second transporter didn't work out either, so we thought that we'd have to cover the BS in twenty layers of painter's tape before hitting the road for Vegas ourselves. Sadly, our dreams of going 200 mph through the entirety of the country were squashed when JP Logistics said they'd have no problem getting an enclosed home for the BS as they convoy out to Vegas with some other SEMA cars. We can't possibly thank JP Logistics enough for coming to the rescue, so in honor of that, we put together a little photoshoot. The rest of the pictures will be out soon, but here's a quick one for now: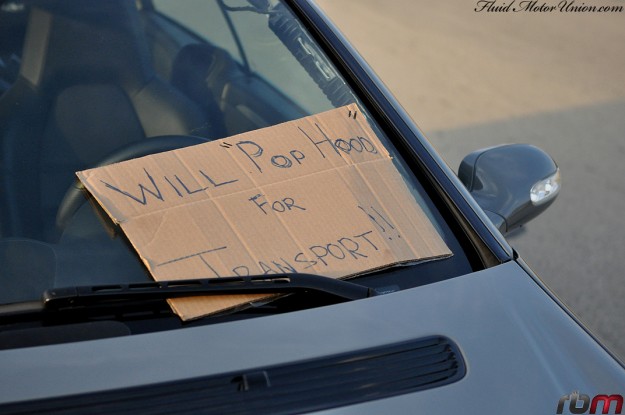 We have a lot of video-worthy action happening all over this place, so there should be some interesting media being released in the coming week or two!