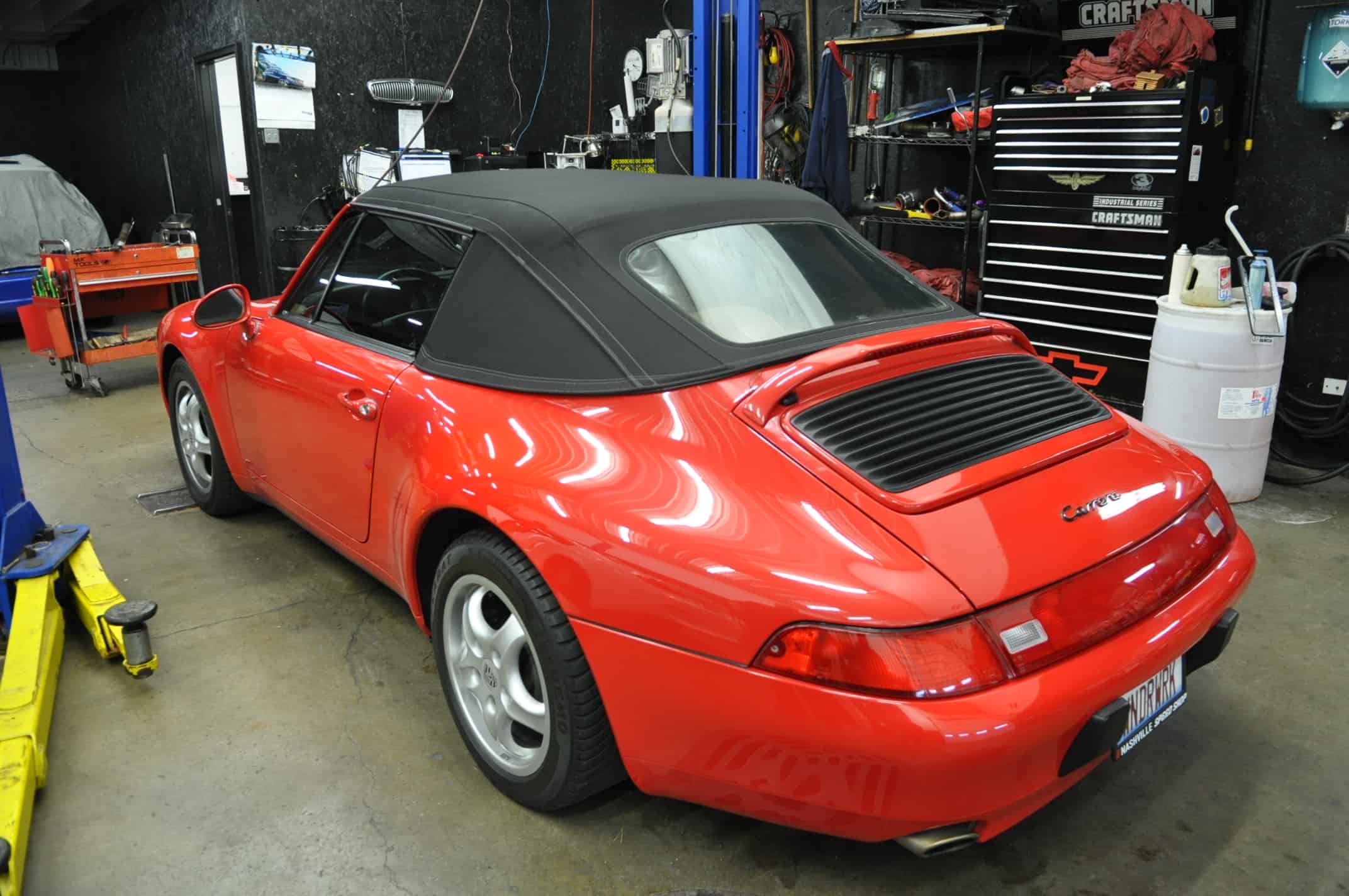 03 Jul

993 911 Battery Replacement

You don't have to wait till your battery has died before replacement, this little red 911 came in and wanted to replace the battery due to age. The factory Porsche battery only had a service life from 3 to 5 years when the vehicle was new, so getting ahead of a potential dead battery is never a bad idea. And thanks to the advancement in battery technology, batteries are lasting longer than ever with regular checks and maintenance.

The battery on the 993 is located under the hood beneath the carpeting. It will take any replacement battery of group size 48 and is fairly easy to install. A model with a ventilation tube is necessary. The vent tube is designed to release explosive hydrogen gas produced as a result of charging while driving. Failure to install a battery with a vent tube may result in the buildup of gas which can ignite in the luggage compartment. To access the battery, just remove the carpet and all the paneling in the front by the spare tire. With the carpet out of the way, removal is self explanatory, and you should be able to spot everything else you need to uninstall the battery. Remember always remove the battery's ground cable before the positive. If you remove the negative cable and accidently complete the circuit to ground, there will be minimal current flow in that side of the circuit. If after you then short the positive terminal to ground, no current flow is produced because the current has no path to return to the negative post. Obviously, this means always reconnect the ground last.

Once the new battery is in place, reprogram the factory stereo with the appropriate code. Lastly, anytime the battery is disconnected, the data for the DME (engine control unit) will be lost. So don't worry when you reconnect the battery if the engine idles fast and uneven. If you run the motor at idle for about 10 minutes before driving, the DME will relearn adaptation data, and will be back to normal shortly after.

The batteries in the 993 do seem to need more attention than most other vehicles. Even though they are not typically a daily driver for most people, more than two weeks without a start can cause the engine to turn over slowly and may even refuse to start. These cars can have a very slightly higher allowable parasitic draw than most vehicles, necessitating more care in owning. Keeping a trickle charger is the answer, and will make sure you can get more than 5 years of battery life.