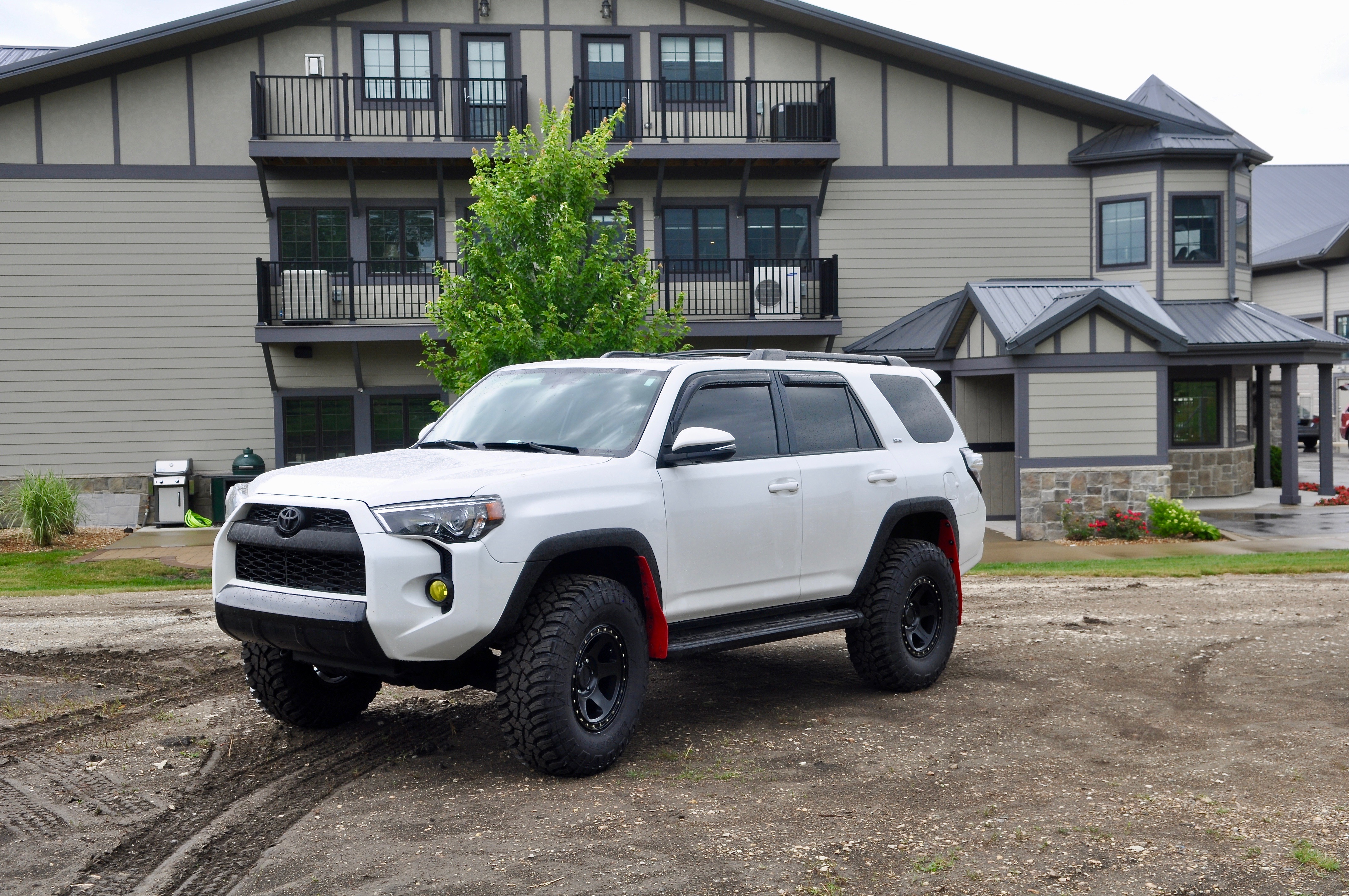 19 Jul

5th Gen 4Runner 35 Inch Tire Installation

If you want your 5th Gen 4Runner 35 inch tires fitted, this project should interest you. This particular customer wanted to do his upgrades in stages, since that is easiest when you have a specific budget to work with. Due to this The wheels and tires couldn't be done all at one time, so we at Fluid MotorUnion suggested the customer do new tires and body modifications first, and then move to a full long-travel suspension at a later time. Our goal was to fit 315/70R17's on this 2014 5th Gen 2wd 4runner in a manner that got him the clearance he needed now, but also allowed for easy upgraded suspension installation later. The technique that we stumbled upon just might be the cleanest and lowest cost 5th Gen 4Runner 35 Inch Tire Installation out there!

The wheel and tire combo of choice were a Method Race Con 6 in 17 inches, fitted with massive General Grabber x3 315/70r17's. We wanted to create extra clearance without having to go to a full suspension, so keeping the lift within budget was a top priority.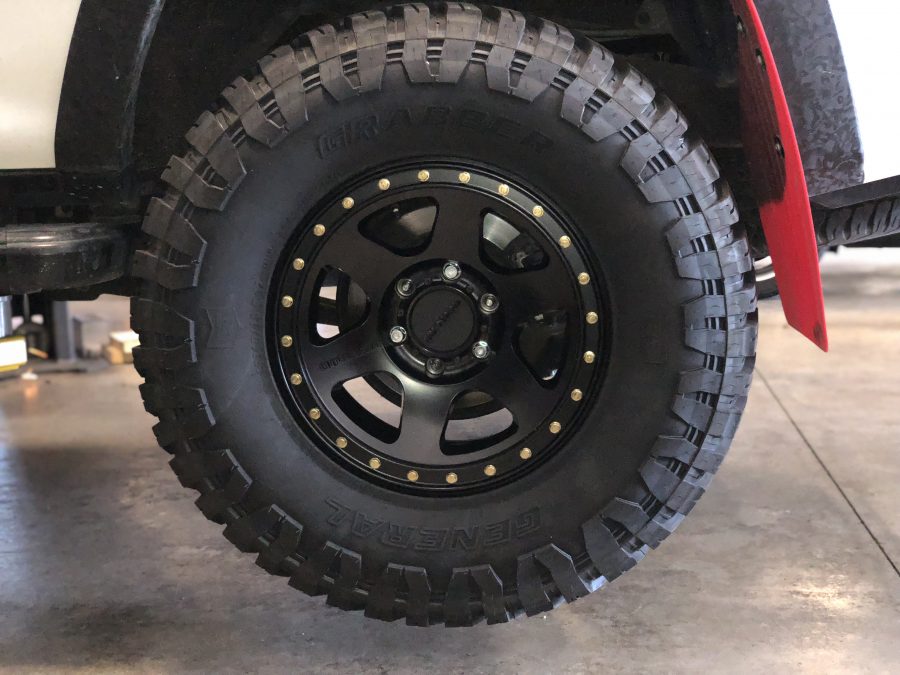 To run our wheels of choice on this 4Runner, we used a 3″ billet suspension lift on the front of the vehicle and a 2" poly lift in the rear. This fit the bill for a low-cost lift perfectly, but would not be nearly enough for getting those massive 35-inch tires fitted on this 5th Gen 4Runner. For that, we started looking into a controversial lifting method called the body lift.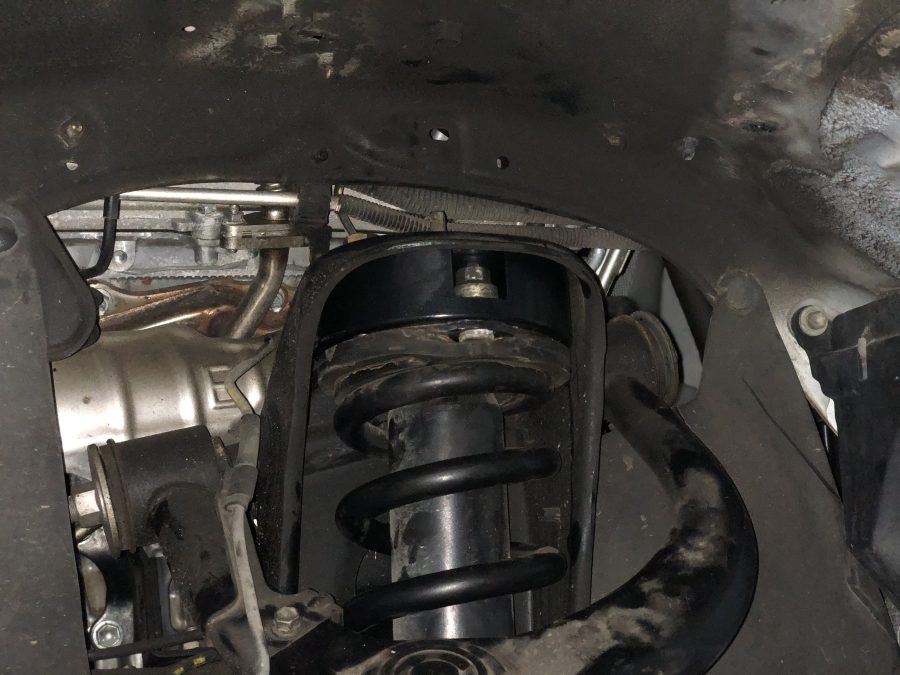 A body lift actually takes the body and spaces it away from the frame the desired amount. While this can be a relatively straightforward way to create clearance, it's effectiveness is debated amongst 4×4 enthusiasts, due to the idea that in extreme cases it can weaken the connection between the body and the frame. Regardless of the pro's and con's, we decided it would be perfect for attempting to get the clearance needed on the tight budget we needed to operate within. So we opted for a modest 1.5-inch body lift in order to create the space we desperately needed, while still protecting the structural integrity of the truck. Despite all of these parts, we still knew we would need to do some extensive trimming to this 4Runner's frame mounts, body, plastic valance's, and the fender flares.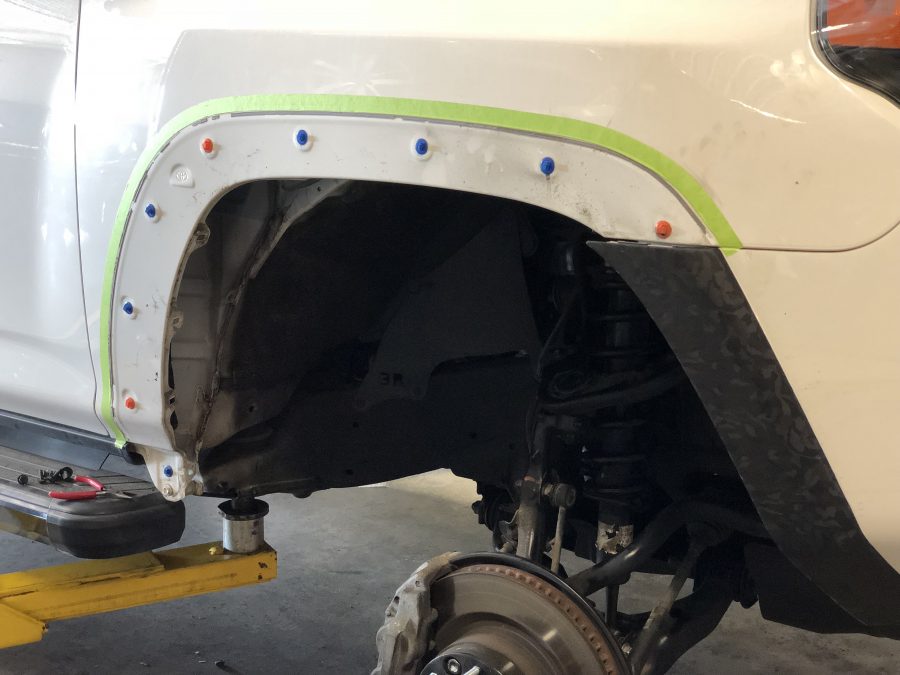 We knew this 5th Gen 4Runner 35 inch tire installation would require the infamous "Body Mount Chop" but we wanted to see how much first so we installed the wheels, tires and all suspension parts, and then marked what we thought would be too close. For many owners trimming into the body and frame of their vehicle can make them wince in pain. The Body Mount is a metal mount on the frame of the vehicle that meets with the body of the vehicle and is then secured together. There is extra material around the mount that was most likely designed as cost savings by not having to make intricate cuts on a larger formed metal bracket.
The internet is full of DIY'ers having a go at the "BMC" and many attempts, while essentially effective, they look crude at best. Now, there are a few companies that sell kits with precut metal to weld into place. But being that Fluid MotorUnion has extensive motorsports fabrication experience, you know the final fit and finish looked better than if the factory had done it!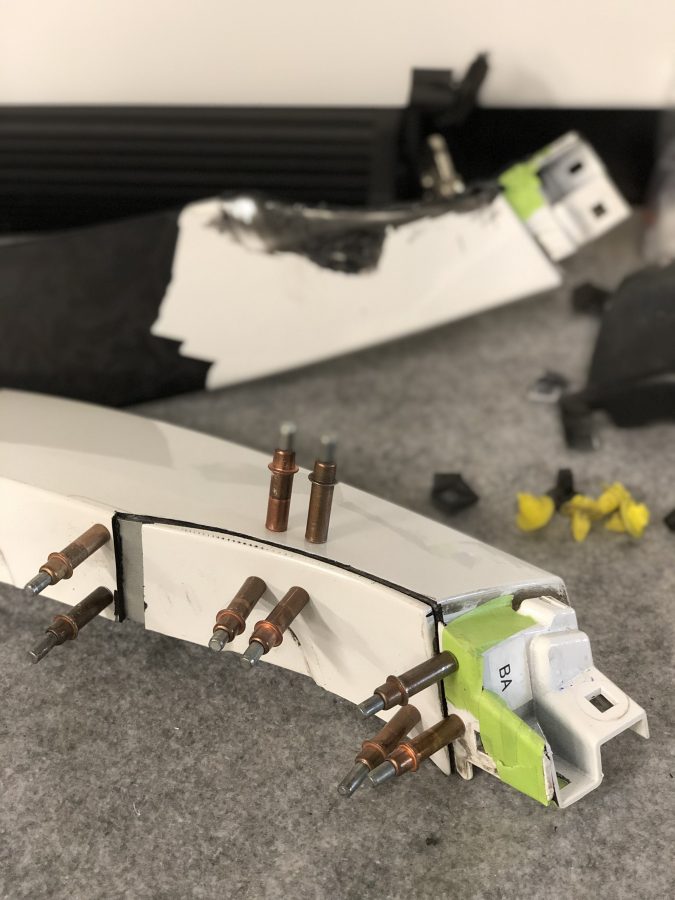 Next, we had to trim the actual body. Cutting down the 5th gen's body is important for a few reasons. To start, when your wheels are at full flex or turning fully locked to either the driver or passenger side you will experience slight rubbing on the body, which could damage and cut into the tires. Also, if you do not cut down the excess from the body, it leaves a disproportionate look when viewing inside the wheel well. We also had to cut into the valance cap mounts and the pinch weld of the body. It took a bit of trial and error to get clearance, and as we cut further and further we noticed that we would be soon running into another issue, the fender flares.
With the clearance done on the interior of the body, we knew just by looking at it, we would have to do some bodywork to the fender flares and notch them. We cut away the material and made metal braces to hold the shape of the plastic desired. With the basic shape in place, we used plastic filler and reformed the newly notched fender flare to match the body and give us the clearance needed for the 5th Gen 4Runner 35 inch tire installation. With the shape set, we sanded and prepared the surface to be rewrapped in 3m shadow black camo for an aggressive, but unique look.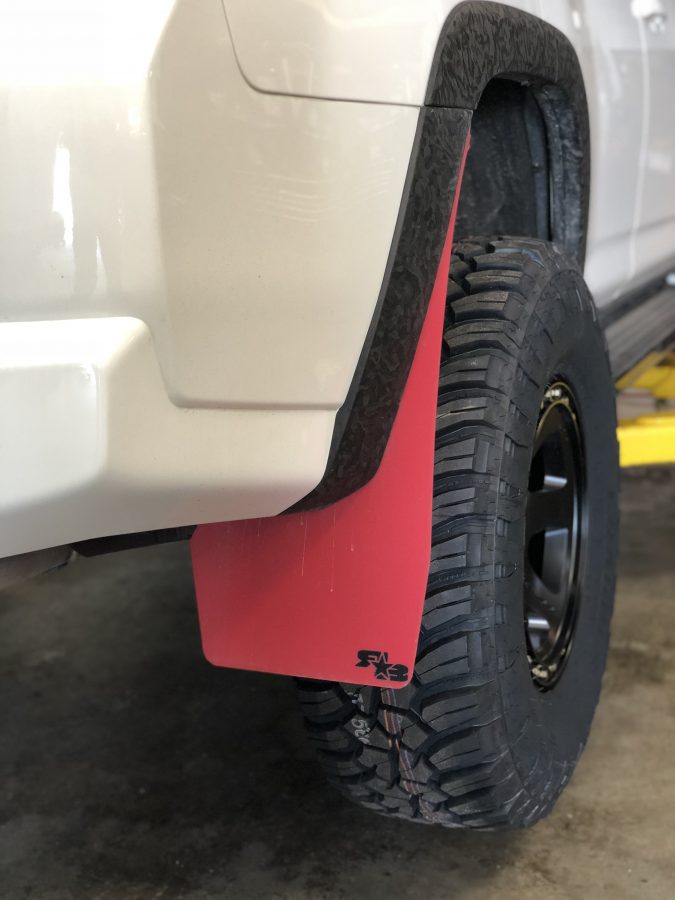 A few finishing touches are required to bring everything together so we opted to push the new Method race Con 6's out and away from the inside of the fender using a hub-centric 1.25-inch wheel spacer on all four corners. This not only gives us inner fender clearance but also adds to the aggressiveness of the offroad ride stance. To top it all off, a set of Rok Blokz mud flaps in red were installed to help protect the finish from the inevitable offroading this truck is destined to perform. Sure there are a lot of modded 4runners out there, but few are using so few parts to achieve such a tough look while keeping budget in mind.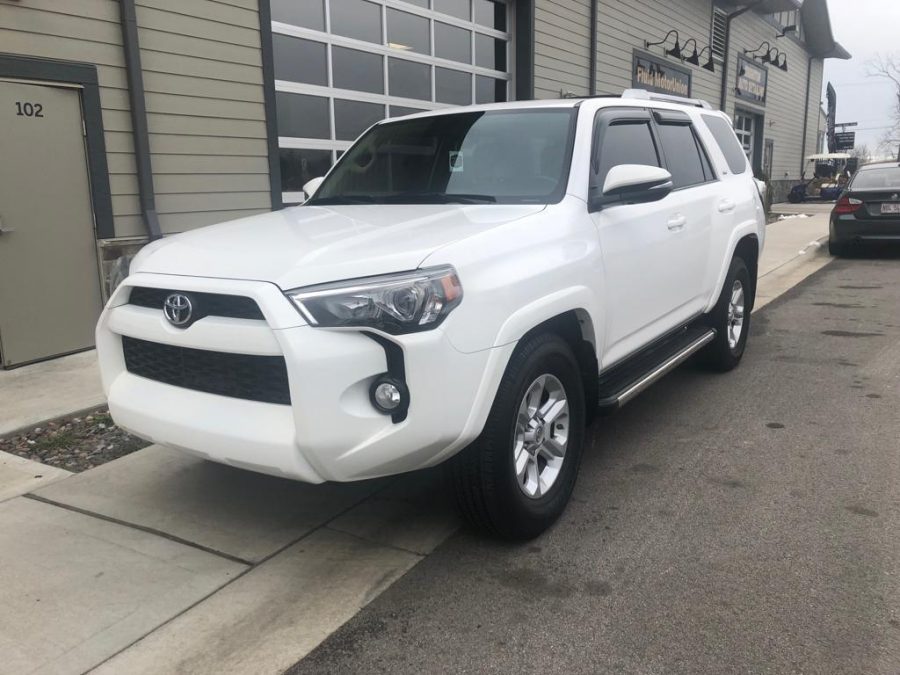 It was an incredible project to turn this, into this!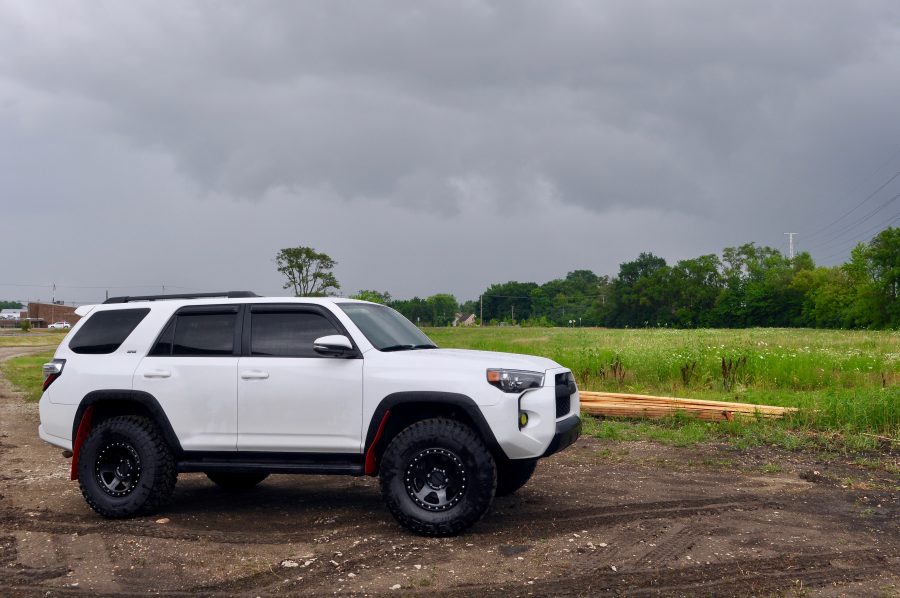 In summary, the recipe we used to achieve fitment:
1.5 in body lift
3 in front lift
2 in rear lift
diff drop bracket
an alignment
and a whole lot of trimming and bodywork!
If you are interested in attempting a 5th Gen 4Runner 35 Inch Tire install or would rather leave it to the pro's at Fluid MotorUnion in Naperville, don't hesitate to reach out to us. If you have any questions or would like to schedule a quote today, you can get in contact via email at blog@fluidmotorunion.com, social media or by telephone (630) 305-3054. We are located in Naperville Illinois, at the car culture capital of the midwest iron gate motor plaza. Just off the route 59 exit of I88, next to Top Golf.